Somehow I can't stop singing that song after I just finished my self declared western movie week.I was so smitten when I had seen 'The Good,The Bad and The Ugly' about 5-6 years ago that I vowed to myself to watch every western movie I can lay my hands upon.I had also vowed to get a cowboy hat and cigar,and chew up the end like Clint 'Blondie' Eastwood.But then I grew up.The pledge to watch every western movie still remains though.For the lack of options I saw GBU 4 times before this week,when finally I decided to improve upon my record.
First one on show was
'Butch Cassidy and the Sundance Kid'
.This one had been on to-be-watched list ever since I had answered a quiz question in my 8th std. about the film featuring the song 'Raidrops keep falling on my head'.I had just heard it from somwhere,most probably the radio or some other quiz.Finally I decided to watch the movie too.For someone who loves westerns,the start was good-with the looting,running,chasing,hiding and the rough,rocky,sandy,sunny terrain.Then I began to wonder if something was wrong when during that song Newman started to do tricks on the bicycle to impress his girl.Somehow the concept of love creeping into a cowboy movie didn't appeal to me,and the 'cute' tricks further ruined the mood.I watched it nonetheless but bank looting in different language and acting as fools when looting a bank thing just didn't strike well to me.Anyway overall I kind of liked the movie,mostly because of the western element.Too lovey-dovey to be a tough western though.And a tragic ending to add to that.These things don't generally happen in a cowboy movie,or maybe someone like me who holds a cliched view of westerners can't appreciate it.
Next in line was another one in the Dollars trilogy,
'For a few Dollars more'
.Eastwood,the epitome of cowboy style as far as I have seen,again impressed me a lot.This time I thought I would get the honcho and the colt,but then I again realised I had grown up.I liked GBU more but this one was right there too.Looked like a low budget movie and I later discovered it was exactly that,which adds to the beauty of the movie.Typical western action,and Leone trademarks with sparse dialogues and rough,unshaven and ethically non-characterised roles.And of course the duel scene and the background music.Music wasn't as awesome as GBU,can never be,but it was still worth listening.I'll be watching this again,as I did with GBU.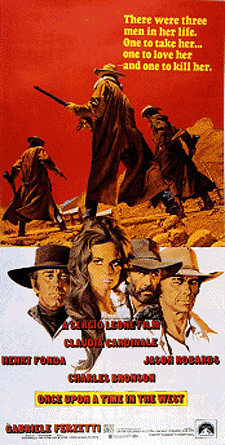 The final one for the week was one of the best,
'Once upon a time in the west
'.Now I generally can't watch a movie continuosly for more than an hour.So this one took me 3 different sittings to complete.But again,Leone made me fall in love with Spaghetti Westerns as the term goes.I missed Eastwood in a Leone movie,but Fonda's role as the villian made up for a bit of it.I think 'Sholay' took some minor traits from this movie like the hunting in pairs of the lead actors,the massacre in the beginning and most strikingly-the harmonica.There isn't much of an acting element in Westerns as there is the Style element,at least for novices like me,but Bronson fitted that bill well.But for the length of the movie,I would have watched it again.One thing to notice though was the improvement in the technical aspect of the movie.But then,Leone must have gotten really rich by then and he did perfect justice to the money he spent.
After all this,I get dreams of standing in a dusty farm,with nothing but the Colts standing between me and death,eyes narrowing,tense background music playing,nervous spit in the dust and *BING* *BANG*........Who's DEAD?